Here's Something To Talk About: JigTalk Version 4.0.0

Firstly, we'd like to start with a huge thank you from the JigTeam for all your reviews and feedback about the app! If you have anything you'd like to talk with us about, you can do so either on our App Store page or by emailing us at help@jigtalk.co .
JigTalk's newest update, Version 4.0.0, has been in the works for a while now and includes some major interface revamps, algorithm changes and quality of life improvements. Each update large and small has been implemented to improve your JigTalking experience – so check out what's new, then go ahead and get talking!
NEW Scrollable Profile Cards!
Your whole profile just got a makeover. 
We decided it was time to tap out from our previous profile design, and implement new scrollable card profiles!
Add even more personality to your profile with the option to upload up to four photos, all fully puzzled! This also means you can watch multiple puzzles unveil in real time while you chat – and get to know your matches a little better. Four times the pictures, four times better an unveiling experience. Certified. 
Updates to Our Matching Algorithm

We've updated our matching algorithm to reward the best JigTalkers. To put it simply, our algorithm favours users who are talking more, swiping honestly (matches aren't Pokemon cards – you don't need to collect them all!) and are overall active on the app. We don't go for superficial metrics and assume who you're best suited to – the better a JigTalker you are, the more likely you are to appear in the Discovery Screen, and the more likely you are to connect with other singles!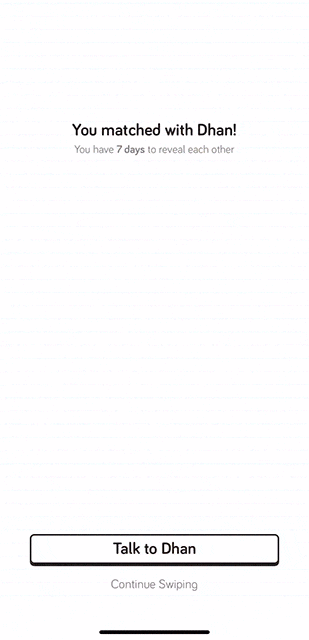 UI Improvements

The proverbial icing on the 4.0.0 version update cake is the improved and simplified UI. Now in the app, it's quicker and easier to:
Watch puzzle unveils and see more of each photo as they unveil in real-time.
See more of a user's profile on the discovery screen (They say a picture paints a thousand words, so we made the picture bigger and easier to see).
Navigate throughout the app and chat to your matches.
Overall JigTalk is now cleaner, easier to use, and more streamlined, so that you can get exactly what you're after out of the app, even faster. 
Stay in the loop for future updates and improvements to the app. There's never been a better time to swipe less, talk more, and date better…
So go do it! Talk soon.
– The JigTeam