Dating App Messages: The Good, the Bad and the Ugly

You've come across another dating app profile that captures your interest. You're impressed so far, but simply swiping left and right never got anyone a date! It's time to start talking and finding out what this mystery match is like, beyond the pictures and witty bio.

There's no method to flirting that will work every single time. The key is to show interest in the other person without warranting the need for the block button. Here are the best and worst ways to start your next dating app conversation.

The Terrible, Terrible Pickup Line

These kind of messages are straight up unacceptable. Stolen from the internet and delivered en masse in the attempt to fish a couple of replies, gross pickup lines or sexual advances are never a good way to try and secure a date (or any reasonable human interaction, for that matter).  
Hi, Hey, Hey There, Howdy, Hello….
Believe it when we say: YOU CAN ALWAYS DO BETTER THAN THIS. You're trying not to be creepy, or too forward with a terrible pickup line, which is great! Fear not, for there are alternatives, that achieve these same things… without being mind-numbingly boring. Examples include "What's the best thing that's happened to you this week?", or "Hey, I see you like [hobby/music/place] too! What's your favourite…?" There's never an excuse to just say hi.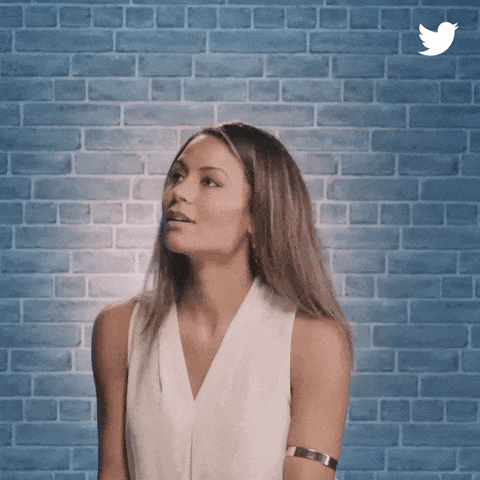 Negging and Solicitations

Some conversations are never going to go past the first hurdle. Every day, some crazy people wake up in the morning and decide the best way to introduce themselves to a match is by hurling a backhanded compliment at someone ("negging") or soliciting someone for sexual favours. If you receive any of these, best to ignore, unmatch and move onto the next one.

"You're too beautiful to be on a dating site…"

We personally hate this one, as we fail to see the problem with being on a dating app in 2019. Your ancestors may have been okay with hurling rocks at one another to get the attention of a partner, but we don't have to do things that way. Dating apps are an acceptable and unique way to date, even if you're still looking for a 'meet-cute' moment IRL. Besides, do you want your first impression to be that you're insecure about which apps you use? 🤔
So what should you say in your opening line?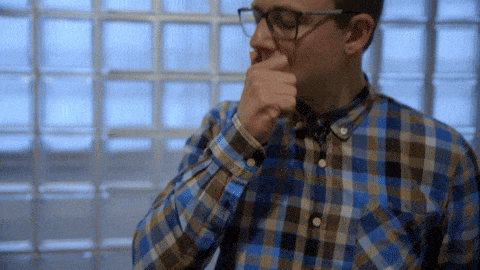 A Pickup Line, but Not Terrible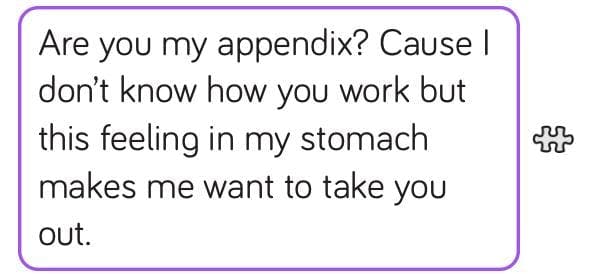 Pickup lines are generally not the best way to start a conversation – why would you send something you didn't even think up yourself? That's who you're trying to show off, after all! But a sweet, funny or cheesy opening line makes for a great alternative to an explicitly objectifying/sexual one. Bonus points if you can make a pun about your match's name 😉.
A Compliment!

For something with so much potential for variety, compliments can really be hit or miss. Here are some ground rules for sending a compliment:
1. Don't focus on physical attributes.
2. Comment on things people can change about themselves.
3. Don't expect anything in return for your compliment. It's not a currency!

Follow these steps and you'll make somebody's day. They might even share the love and send compliment you in return! 😉

A Multiple Choice Question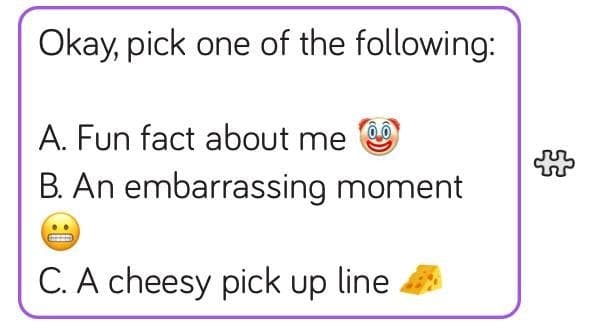 You've probably sent or received some variation of this before: Choose from a cheesy pick-up line, a fun fact, an embarrassing tale. These types of openers maximise the chance of a fun response and give your match the choice as to what they'd like to reveal about themselves. Plus, if things go well, they could end up hearing the embarrassing story and the corny pickup line. Just don't choose the one we included above.

If you're really unsure about what to say, or you're crippling terrified of saying the wrong thing (we've all been there), here's a great opening message that few people can resist answering:

Find Out What Messages They Hate

Oh how the turntables – by asking an open question, you're given the chance to swap stories, laugh at the bad eggs together and eventually fall in love. Or maybe you're after clues on what not to say to someone else. Either way, it was the right move to make.

Final words…
Starting a conversation is usually the hardest part, especially with a stranger. If you're still unsure about what to say, get a Professionally Single™ friend to check your message! The goal is never to be demanding or to just play nice to get what you want. It's to meet someone new; have a great conversation; and should you click, to go on that first date! Now you can go back to your messages with a newfound confidence that your opening lines won't make your matches reach for the block button 🎉