How to Create a PowerPoint to Get Quality Matches On Dating Apps

Have you ever sat and scrolled through your favourite dating app, to eventually come across a guy/gal with the most incredible PowerPoint? If you're wondering what I'm talking about, Sam Dixey made a PowerPoint Presentation to use on his Tinder Profile. PowerPoint presentations have taken dating profiles by storm as it's a fantastic way to tell people about yourself without having to convince them to look at your bio. A comprehensive, detailed list of reasons why you should match with them, and also the occasional review from their best friends' Mother? What a way to win someone over – am I right?!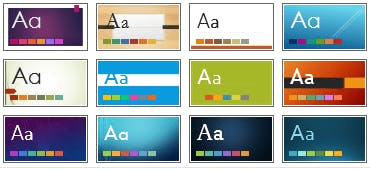 I know you're sitting here right now wondering how you can create your own and become the new talk of Tinder Town and Plenty of Fish Paradise. Well, here is your step by step tutorial to ensuring that your profile is the new talk of the town!
Step 1.  Set up your Theme
It is vitally important that you have a beautiful PowerPoint theme going on. For example, red text on a black background is an absolute nightmare to read and other users won't want to sit and read it (Unless they're wondering why there is red text on a black background, of course). Make sure it represents who you are. Before you ask, Comic Sans MS is banned! You can see some fantastic examples taken from the PowerPoint Presentation Gallery below.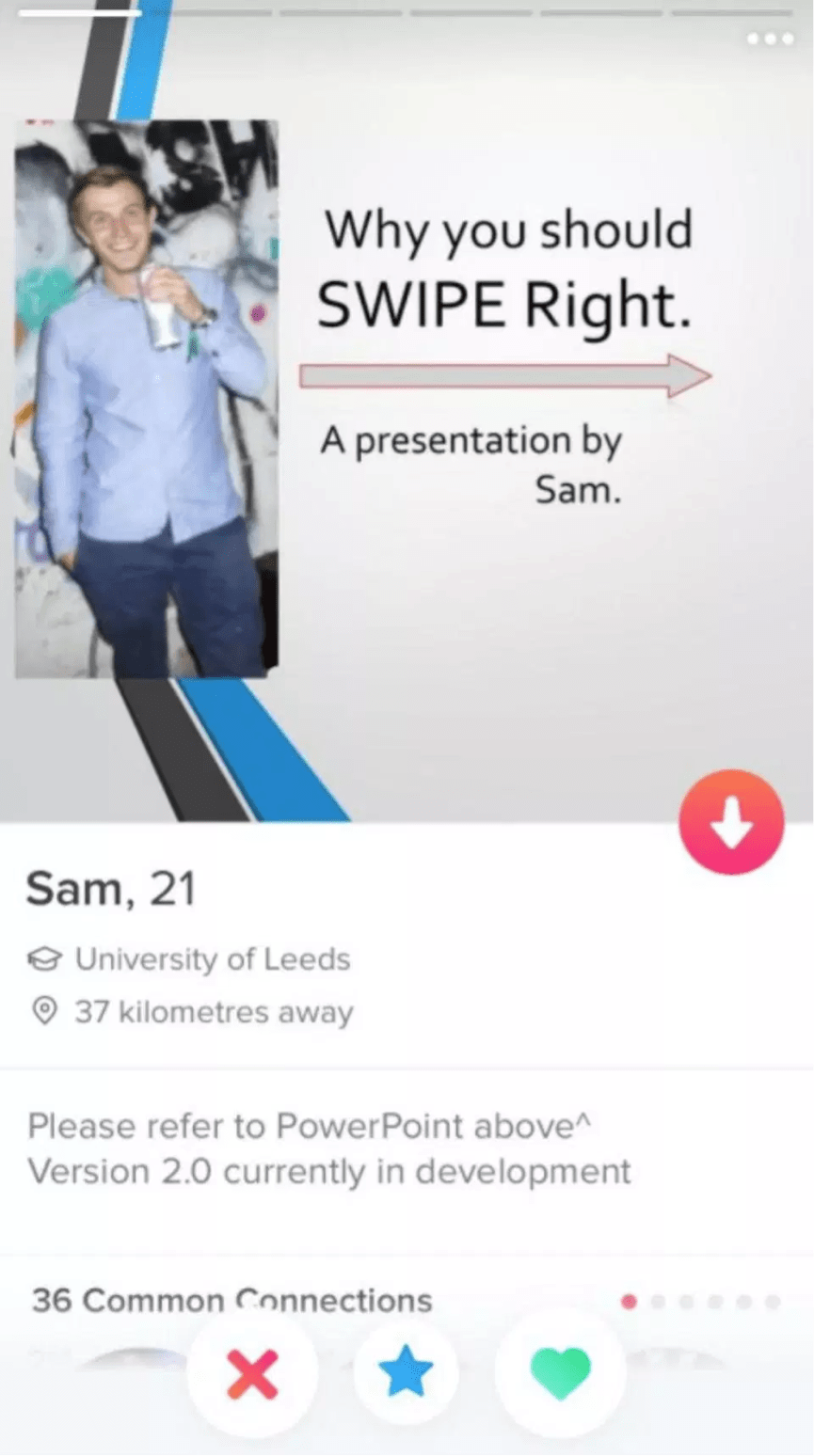 Step 2.  Tell People Why They Should Swipe Right
I mean, keep it simple. Tell people that you're going to give them a comprehensive list of reasons why they should swipe right and that'll be sure to do the trick. It's unfair if you don't let people know what they're getting into already! It's vitally important this stage that you have an arrow pointing right so that people don't accidentally swipe left. Make sure that this is the front photo!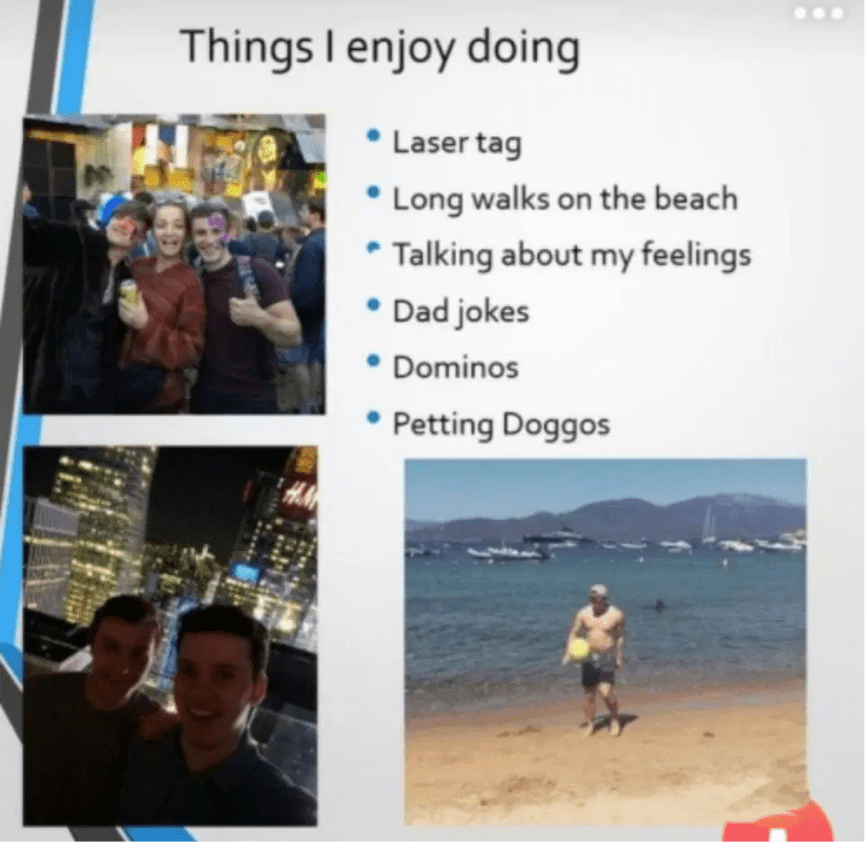 Step 3. Give an Overview of Your Life
Tell us where you work, where and what you studied at University. There's no need to be too specific; don't give out your address or anything. Safety first! The finer details should go here, so your hobbies, interests, your living arrangements (I believe they are important to some) and so forth. Make sure you mention everything! Some presentations that I've seen include pie charts and bar graphs, demonstrating their interests and their work-life balance. This is definitely interesting and gets the idea across much faster. Would 100% recommend – just make it as interesting as you can!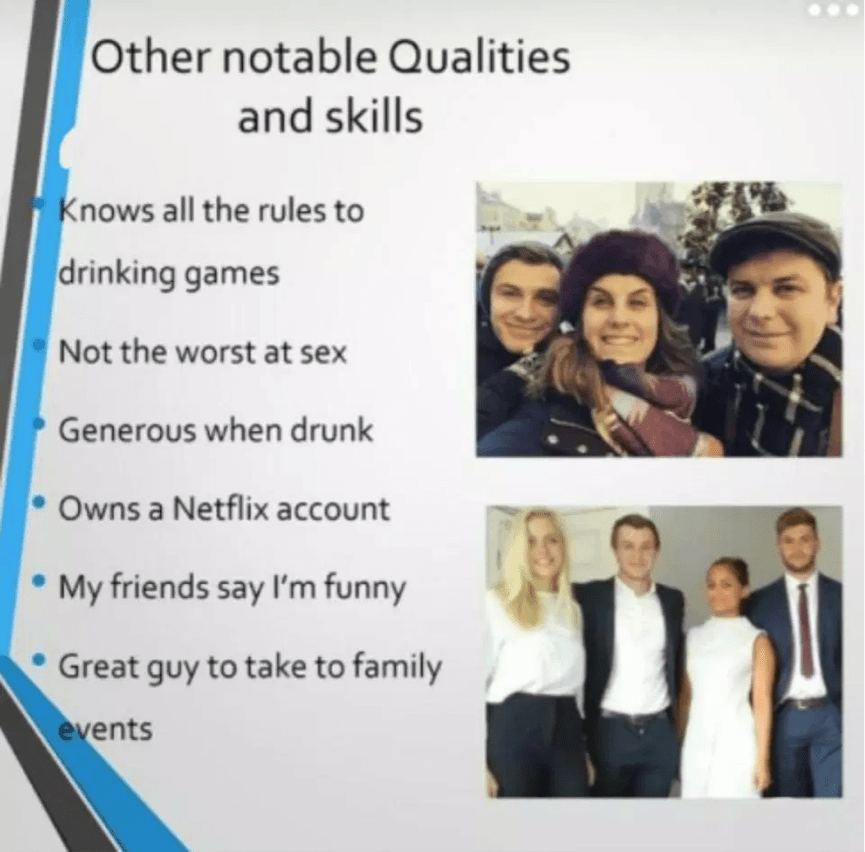 Step 4. Show off Your Best Attributes
Do you love animals? Tell us! Do you know the best place for a night out on a budget? YAY! Make sure that you keep track of all of your skills – the rule of thumb here is that if you're not bad at something – put it down! If your friends think you're funny, then make sure you put your favourite joke on there. It's also a good idea to mention what you'd do for the other person; we all love food, so if you're always offering food to others then that's a definite win. If all else fails, you can use this page to upload a load of photos of yourself with various animals.
Step 5. Write a Thorough Conclusion
Be sure to note down all of the reasons again in a more concise conclusion on your last page. Finish it off with a smooth comment; something like 'So, if you're still reading then be sure to swipe right!' should definitely do the trick, and wait to see those likes rolling in!
It's also really important that you have pictures rolling throughout your PowerPoint – and it's even better if they align with the right page and illustrate what you're talking about. Let us know if you have any success!